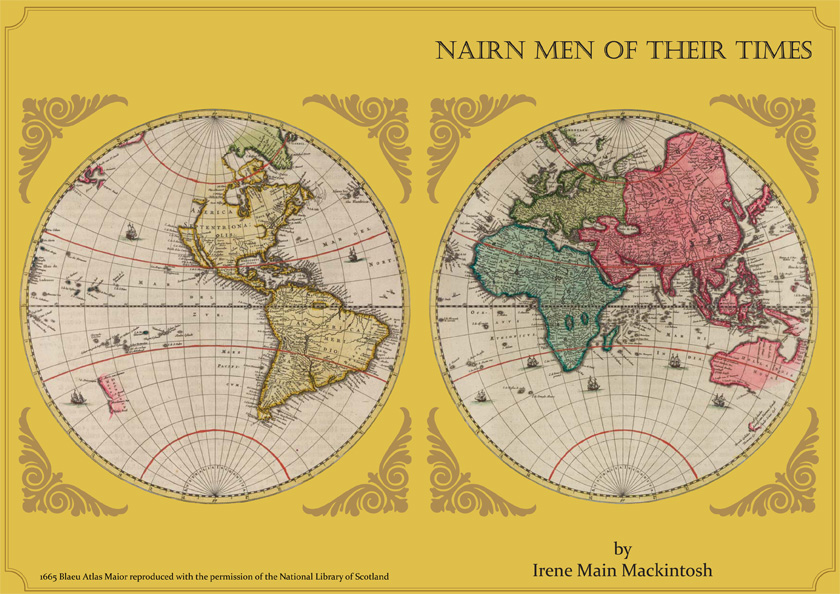 Nairn Men of Their Times
Spring 2021
I was approached to design the cover to the book 'Nairn Men of Their Times' by Irene Main Mackintosh. As well as designing the cover, creating the floral corner patterns, I also sourced the image of the atlas.
The following introductory passage outlines the book's subject matter:
"A number of years ago I came across the names of several young men from the 18th and 19th centuries. I felt with their local connections and interesting backgrounds their stories were just waiting to be told. They had travelled to various parts of the world – the United States of America – Australia and Canada – most leaving an impression in their adopted country. Some also served in the Army, Royal Navy and in the East India Company, along with the North-West and Hudson's Bay Companies.
I confess I bow to others with greater knowledge of local history. These fifteen stories have been researched from a multitude of historical records. A wealth of information was gleaned from visits to the local Archives in Inverness and Elgin. From the internet, Scotland's People, Find My Past, Free Cen., Family search.org provided information from estate papers, census records, birth marriage and death records, wills and valuation rolls. Nairn Museum kindly let me have copies of postcards and photographs.
The most surprising source came from E-Bay where I discovered a letter dated 1813 up for sale from Captain James Rose of Nairn to his nephew Charles in America. When I contacted the American Auction House, they had a further 34 letters which I successfully purchased, giving an insight into the Rose family from 1813 until Captain Rose's death in 1840. These letters also gave to some degree what was local news at the time.
This booklet could not have been written without the help of numerous people who have so generously given of their time and are too many to name but I would like to thank Stuart Farrell, George McLean, Alan McGowan, John Urquhart, Liz Grant, Liz Kidd, Michael Ross, the late Alan Barron and the late David Ellen.
I would like to dedicate this book to my husband Ken and my grandchildren Stuart, Eloise and Craig, whose unfailing support and encouragement helped with its production."

Irene Main Mackintosh