East Lothian Archaeology & Heritage Fortnight
Autumn 2023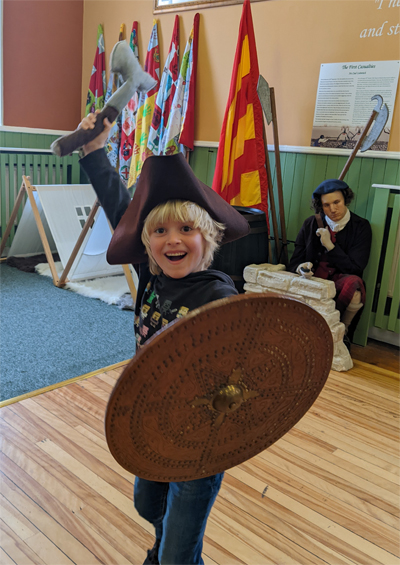 One of the reasons I feel so fortunate to be living in East Lothian is the abundance of fascinating history to be found on my doorstep. Every year in early September the many heritage groups throughout East Lothian seek to showcase their rich heritage.
Various groups made up of passionate individuals from the local communities work hard to promote their heritage and engage with the wider public. Within the past couple of weeks I visited the wonderful display of model boats in Port Seton and watched the accompanying video of retired fishermen recount their lived experiences, organised by Boatie Blest Heritage. I also visited Spott parish church near Dunbar where the excellent exhibition on the battle of Dunbar, put together by Dr Arran Johnson, is displayed within the watch-house.
I attended an open day at Preston Tower in Prestonpans where the Friends of Preston Tower are working hard to restore and enable access to the Tower for the benefit of the wider public. Myself and my six year old had fun taking rubbings of a variety of different images relevant to the area that have been carefully placed around the beautiful gardens there. Just round the corner from the Tower can be found the Jacobite Museum that has been championed by The Battle of Prestonpans (1745) Heritage Trust.  Also within Prestonpans are 'Catching the Past', a small group of female re-enactors who provide living history experiences that include walking tours of the local towns.
Other local heritage groups include the 1722 Waggonway Heritage Group that seeks to interpret, preserve and enhance the route and associated industries of Scotland's first railway, the Tranent-Cockenzie Waggonway.
There are, of course, many more heritage organisations and sites in abundance to be found throughout East Lothian and beyond, and I would encourage everybody to engage with the heritage on their doorstep, wherever they live – not only is the experience fascinating, but filled with a warm and friendly atmosphere.